Wizkid's personal bodyguard, Roy Emmanuel Obinna has taken to social media to expose a slayqueen who stole his iPhone at a nightclub in Lagos.
Roy revealed that he forgot his iPhone on a car at the parking lot of popular club, Quilox, last Friday and the said lady, who was clothed in a brown outfit, picked it and walked away.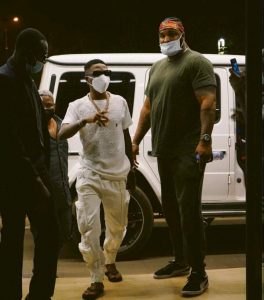 He shared a CCTV footage which captured the moment the young lady stole his phone, and asked anyone with useful information about her identity to contact him or the management of the club.
He also offered to reward anyone who helps him find his phone and promised not to reveal the lady's identity.
He captioned the video,
"I forgot my phone on a car at club quilox on Friday and the lady in brown picked it.
Anyone with useful information about her should contact (*****). It's an iPhone… I promise to reward and we can keep her identity private after recovery. Thanks."
Watch the CCTV footage below,
View this post on Instagram
Enjoy the updates on onemusicnaija? Please give us a five star rating HERE!!!